Trivex – Trilogy
Trivex lens material
Your patients ask a lot of their eyes.
Life is visually demanding. In a single day, your patients subject their eyes to thousands of different situations. And whether it's reading, driving or playing a round of golf, they rely on their eyes to give them the clear picture. Having eyewear that delivers continuous performance is essential to getting the most out of life – and it all begins with the lens material recommendation you make.
Not all eyeglass lenses are equal.
Your patients' lenses need to perform in any situation. Unfortunately, most lens materials require a trade-off. If your patient wants the advantages of thinner, high index lenses, they'll need to accept heavier and less durable lenses. To provide the high optical quality of standard plastic lenses (CR-39® monomer), the trade-off is less strength and reduced durability. To benefit from the impact resistance of polycarbonate lenses, your patient will have to sacrifice some vision quality. And then there's Trivex lens material…
Trivex material provides the complete package of optical quality, lightweight comfort, strength and protection – the critical performance characteristics called for in everyday living.
Trivex material is True to Life.
As the foundation of all eyewear, the lens material determines how well a lens will perform in real life situations. Being "True to Life" means that the lenses you fit on your patients provide just what their eyes need at any given moment. Trivex material is a unique, scientifically-advanced category of lens material developed to provide the best balance of performance properties:
Crisp, Clear Vision
Trivex material provides the optical quality that optimizes corrective prescriptions and helps to reduce eye strain.
Lightweight Comfort
Lenses made with Trivex material are ultra-light for ultimate comfort; Trivex material is one of the lightest lens materials on the planet.
Strength and Protection
For the demands of everyday living, eyeglass lenses need to provide protection from unexpected impact like while playing sports or working in a hazardous environment*, breakage and from the sun's harmful UV radiation.


Click here to….
Take part in the Trivex Specialist Blog 
Watch a webinar presenting new technologies and advancement in spectacle lens materials


Click here to….
See the Impact Resistance Test from Younger Optics
See the Chemical Resistance Test from Younger Optics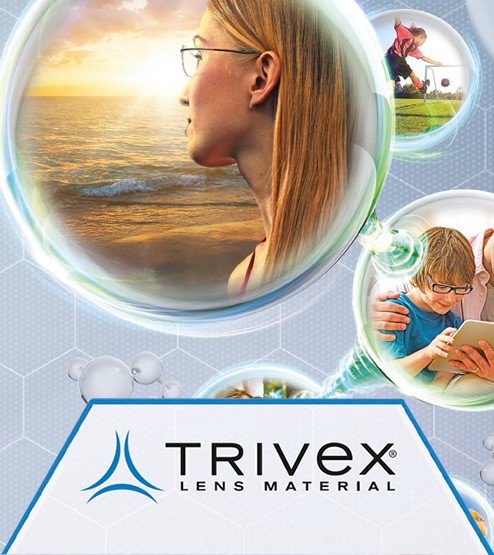 Who should wear lenses made with Trivex material?
Lenses made with Trivex material are a great choice for anyone who leads an active life and expects clear, crisp vision correction, lightweight comfort and protection from their eyewear.
A perfect fit for children's lenses…
With Trivex material, children gain the benefits of impact resistance PLUS great optical performance.
Compatible with all lifestyles and frame styles…
For the fashion-conscious, lenses that provide optical quality, lightweight comfort, strength and protection are always in style! Trivex material is a perfect fit for all frame designs, and it is especially well-suited for rimless (drill-mount) and semi-rimless (supra) styles.
* Impact resistant lenses are neither shatter proof nor unbreakable. Coatings may alter the impact resistance of any lens material.


Trivex Brochure
Trilogy Brochure – One
Trilogy Brochure – Two

Trivex is a registered trademark of PPG Industries Ohio, Inc.