Lens Options
Our EXCEED range of Lenses – Personalised Digital Freeform Progressives
The arrival of Freeform Technology has created a revolution in lens personalisation. Our Exceed range represents a group of engineered designs that incorporate the latest technology. Each design under the name Exceed guarantees the most sophisticated possibilities of personalisation and optical performance. The new freeform generators are now so accurate they allow us to cut a nearly infinite number of surfaces with never seen before precision.
EXCEED Powered by Camber
Exceed PBC uses complex variable curves on both surfaces of the lens to provide excellent vision correction. The unique, continuously changing surface curvature of the specially designed lens delivers an expanded reading zone and improved peripheral vision. With our sophisticated Exceed inner surface design both surfaces work together to produce an expanded Rx range, better cosmetics (flatter for many prescriptions) and superior near vision performance, when compared with conventional progressives.
Benefits of Camber Technology by Younger 
The Camber Lens blank features a variable base curve – a new front surface innovation that provides the optically ideal base curve in all three viewing zones.
From the top of the lens blank to the bottom the base curve increases up to three dioptres. This 'stacking of the spheres' is a totally new idea and unique to the Younger Camber semi-finished blank. Utilising this special blank a digital lens design on the back surface provides benefits to wearers in both the distance and near zones. Wearers enjoy noticeably increased acuity in the periphery of the distance zone, as well as a reading area that is more comfortable and easier to find in all adds up to 4.50.
With Exceed lens design the camber blank is only the beginning. When this unique front surface is combined with a sophisticated back-side digital progressive design, both surfaces work together to achieve Exceed powered by Camber. The Design can be further enhanced by adding the individual frame values including pantascopic, face form angle with back vertex distance measurements. However if you choose not to give us these additional measurements we will use our set default values.
Available in
1.5 Clear, Transitions & NuPolar Polarised 1.53 Trivex Clear & Transitions 1.59 Polycarbonate Clear, Transitions, Transitions Drivewear & NuPolar 1.6 Clear, Transitions & NuPolar Polarised 1.67 Clear, Transitions & NuPolar Polarised 1.74 Clear & Transitions
Corridor Lengths: variable Minimum Fitting Heights: 14mm from lower rim
An Advanced Digital Progressive Lens like no other Exceed powered by camber finished lenses give wearers an outstanding visual experience, with spacious reading zones, improved peripheral vision, an expanded Rx Range, better looking lenses in many materials, and patient-preferred near vision performance.
Benefits include
Wide near and far visual zones
Perfect balance between near and far
Comfort and high precision together in the same lens
Variable designed progression lengths, minimum fitting height 14mm
Great cosmetics with improved optics
Clear vision in every gaze direction
Oblique astigmatism minimised
Variable Inset: automatic and manual
Exceed – Ex-Drive Progressive
A brand new addition to the Exceed range of digital progressives.
This fully digitised inner surface progressive is aimed at the driving and general outdoor market. Ex-Drive benefits from enlarged distance and intermediate zones with only a minimal reduction in near reading area. Due to the specific focus on distance and intermediate dynamic vision the minimum fitting height is 17mm with no short corridor option. We would of course recommend adding additional measurements to include (BVD, Wrap, Panto) measurements for the best as worn solution to compliment this dynamic lifestyle lens.
 Large uninterrupted distance and intermediate zones
Slightly reduced but fully usable reading zone
Available in all the most suited lens materials with additional treatments
The most suitable design behind the wheel and for the great outdoors

Exceed – Standard
A modern super soft design full inner surface digital general wear progressive with a balanced combination of visual zones. To get the very best from this product we suggest that additional measurements including BVD, Wrap and Panto are added to your order to fine tune the final as worn prescription to compliment a dynamic lifestyle. Exceed is best suited to all emerging presbyopes as well as current digital progressive wearers or any patient wanting more expansive usable vision areas combined with all round increase in performance.
Minimum Fitting Heights: 14, 16, 18 & 20mm
Success Advanced II
This up to date digital inner surface progressive is an ideal product for first time wearers or any patient leading a more dynamic lifestyle. Low distortion in periphery produces increased fields of view in distance portion of the lens with soft power transition to near.
Lens availability from 1.50 to 1.74, and a wide range of lens types including: CR39, Trivex, Polycarbonate, Transitions, XTRActive, NuPolar Polarised and Drivewear. Clear 1.50. 1.60 & 1.67 available with UV++.
Minimum Fitting Heights: 14, 16, 18 & 20mm

Fine Focus
Fine Focus Digital Freeform Progressive
A lens with great benefits at a great price! Ideal for current and new progressive users looking for an economic solution. This is still a full digital inner surface progressive but with slightly harder design characteristics ideal for patients swapping out of a front surface traditional design PPL.
Non-compensated design for general use with generous visual areas for near and far.
Well balanced lens design
Wide near and far regions
Good performance for standard everyday use
Available in three progression lengths
Short corridor version available
No extra measurements needed as this is a non-compensated design
Minimum Fitting Heights: 14, 16, & 18mm

I-Focus
Digital single vision atoroidal inner surface with enhanced cosmetics.
Our Freeform Digital Single Vision lenses combine ergonomics and aesthetics with the best optical quality available today. Whether the frame is curved or has a high pantoscopic or wrap angle, if it is big or small, if the refractive index is high or low if you need to surface the patient's prescription then think about upgrading to I-Focus.
Each lens is unique: it is calculated for each wearer taking into account the prescription, pupil position and the 3D shape of the selected frame. Single vision has nothing to do with traditional convex aspheric lenses, with which only correct in the major meridians. The surface of an I-Focus single vision lens incorporates oblique aberration correction on a generic surface, as complex as that of a progressive lens. If you need a surfaced single vision lens due to higher power in sphere or cylinder I-Focus should be your first choice.
The result is a lens that is easy to prescribe and easy to mount, which will fit the user perfectly from the moment they put them on.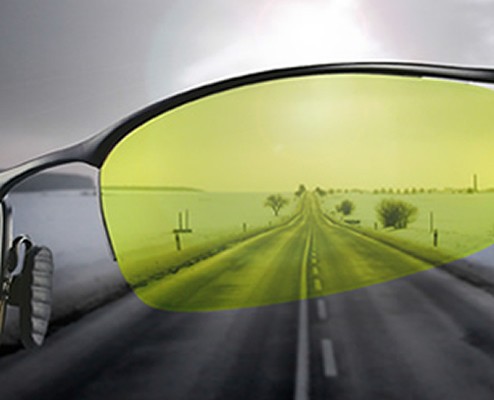 Lens availability includes
1.50 Clear, Transitions & NuPolar Polarised
1.53 Clear & Transitions
1.56 Clear & Photochromic
1.59 Polycarbonate Clear & Transitions
1.60 Clear & Transitions
1.67 Clear, Transitions & NuPolar Polarised
1.74 Clear
 
Exceed PBC Mobile Progressive
The Exceed PBC Mobile has been designed specifically for users of electronic devices, Camber Mobile incorporates Smart Add technology. This technology has allowed us to design wider near and intermediate fields with a smooth transition that allows wearers to change focus between different distances in a more agile more efficient way. Finally the unique progression profile slope makes it easier to find the near and intermediate zones.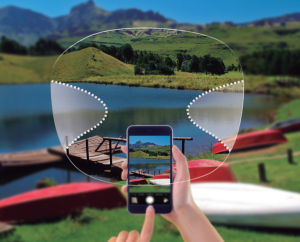 Features
Daily use Progressive lens
Developed specifically for users of electronic devices
Near and Intermediate zones easier to find
Wider near and intermediate zones
Provides superior dynamic vision with greater ability to focus on small details with smart add technology.
Ideal for emerging presbyopes as well as more established wearers looking for dynamic vision particularly when using electronic devices.
Lens Materials
Clear 1.5-1.74 including Polycarb and Trivex
Transitions VII 1.5 – 1.74 VII All materials
Nupolar polarised all materials except Trivex and 1.74
Drivewear Polycarb only
Rx range
Wide range of powers including cylinders up to 6.00D
Additions up to 4.50D!
Lens ordering
We recommend supplying additional personal parameters including BVD, Panto and Wrap angle
Minimum fitting height is 14mm
Variable inset available calculated automatically when additional measurements supplied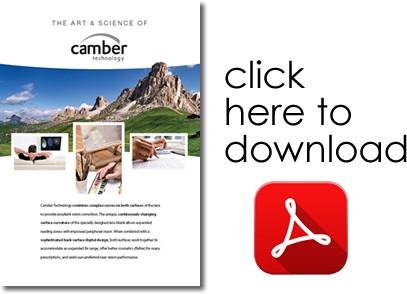 I-PLAY
I-PLAY (sports extreme) digital progressive – NEW
This outdoor specific varifocal benefits from extra wide distance and intermediate zones with a limited but usable near vision zone. Ideal for all extreme outdoor pursuits. BVD, Wrap and Panto measurements essential when ordering this product for supply to all wrap design frames.
Lens availability includes
Trivex, Polarised Mirror, Transitions, XTRActive and Drivewear.
Minimum Fitting Heights -18mm
Office Vision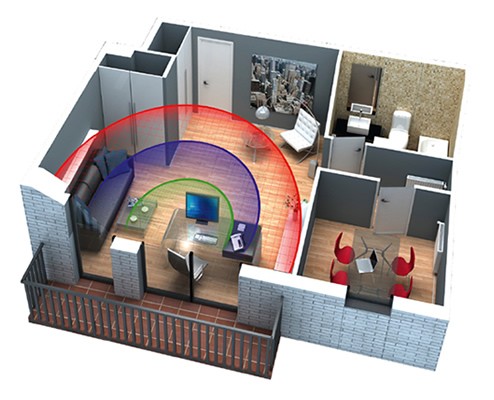 Digital Freeform Degressive
Office Vision is our digital freeform occupational lens for working environments.
Designed to give clear and sharp vision for intermediate and near distances ensuring you have all day comfort.
Office Vision is ideal for close proximity computer work owing to it's extremely wide near vision area and allows you to view your surroundings or colleagues across a desk without any noticeable distortions.
Why use office vision?
The use of computers is growing day by day, no matter the age group
Continuous visual demands for intermediate and near vision activities requires specific lenses
To address ergonomic and comfort issues
Ideal lens for office and close proximity work

Occupational lens exclusively for intermediate and near vision
Very soft design that eliminates swim effect and perceived lateral distortion
Extremely wide near vision region
Many available degressions to accommodate each user's needs
No adaptation issues
Office Vision is available with options to give the user a choice of three different clear vision depths.
OV 1.3m – from 35cm to 1.3m, OV 2.0m – from 35cm to 2.0m, OV 4.0m – from 35cm to 4.0m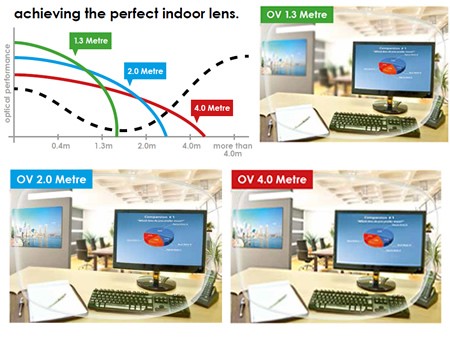 Adaptable clear vision depths provide the patient with a perfect visual solution adapted to their individual needs.
Available with UV++ in
1.50 Index Range: -6.00 / +6.00 cyl 4 1.60 Index Range: -7.00 / +7.00 cyl 4 1.67 Index Range: -8.00 / +8.00 cyl 4
Maximum combined powers, opposing cyls apply
Ask your representative for more information or just call your Customer Care Team who will be more than happy to help direct your enquiry.