Running through the night with Julbo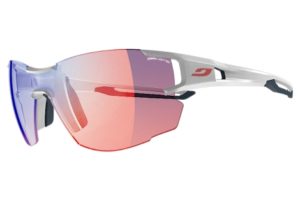 With darker nights already drawing in street and cross country running has to absorb the limitations of limited light, timings and routes changed, for those of us used to wearing sports eyewear the winter brings little opportunity for sunglasses.
Julbo have taken this into account with their technically advanced running range of wraps incorporating NXT Trivex photochromic technology, one of their latest chemical configurations has delivered the Zebra light filter category 1 to 3. Couple this with a dual layer of anti-fog treatment and mounted into the lightest frames with maximum direct ventilation and Julbo have delivered a real winter warmer for any runners stocking!