Julbo – Advanced Eyewear Solutions
JULBO GROUP / AN INDEPENDENT BRAND
Founded in 1888 and based in the Jura (France), Julbo is a benchmark sports eyewear brand drawing inspiration from its heritage and wants to be known for its outdoor spirit in the eyewear market.
Julbo's mission: finding the best solutions to protect our eyes and allowing all of us to see the world better.
Julbo's expertise in lens technology results in products that meet the conditions of each type of terrain and the requirements of each user. Protection, angle of vision, hold, ventilation etc. All Julbo products are meticulously constructed.
Distributed EXCLUSIVELY through Lenstec Optical Group – click here to read more…
When practicing sport, good vision is essential to read the terrain correctly. More than 70% of our movements are guided by our vision. Sunglasses and goggles are therefore much more than a simple fashion accessory and can be used as a tool to improve performance.

RX TREM / PROVEN TECHNOLOGY
Julbo further strengthened its expertise with increasingly technical lenses (Zebra, Zebra Light, Octopus and Cameleon) to meet every outdoor need. With the creation of its RX Trem program, honoured with a Silmo Gold Award, Julbo revolutionised the world of sunglasses. All wearers of prescription eyewear could now live their sport to the full with the first Julbo 100% prescription sunglasses.


Click here to find out more about the Prescription Sunglass Models

The dangers of solar radiation for children's eyes
A pioneering brand in sun protection for children's eyes, Julbo's commitment to opticians, health professionals and consumers is greater than ever as it continues to raise awareness and offer the most appropriate protection solution for children's eyes.



MULTIACTIVITY / A NEW WORLD FOR JULBO
In this multisport era Julbo attacked all fronts and all the elements. On track and trail, following the explosion of outdoor sports such as trail running and mountain biking, if it moves Julbo is there, with products perfectly adapted to each sport.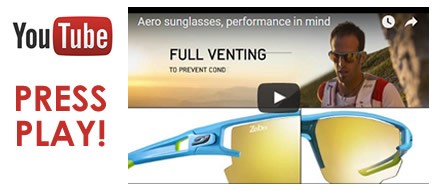 Click here to view the Babies, Kids & Junior Sunglasses and Optical Frames