Lenstec scoops major international award
Lenstec have recently been awarded the prestigious Transitions International award at the recent International conference in Disney Florida,Transitions Academy.The Academy is attended by over 1500 delegates from across the Globe for the awards that cover the Industry and Profession.
Lenstec were awarded LAB OF THE YEAR 2009 for Europe, Middle East and Asia(EMEA) in recognition for Sales Growth, Transitions penetration in the UK Market and marketing Transitions V1 to it's large customer base.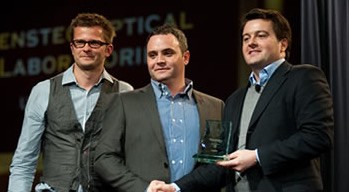 Picture above shows Matthew Maguire,Wales Sales Manager collecting his award at the Gala presentation award ceremony.
Matthew commented " It was a great honour to receive the EMEA Lab of the Year award ahead of some very stiff Lab competition across the EMEA region and we are very proud to receive the award "
For Transitions information please contact Lenstec on 02920 883009