Need protective sunglasses for Mountain Biking? Julbo has the answer…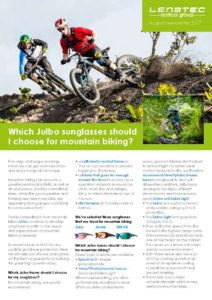 Fine days and longer evenings mean we can get out more often and enjoy our sports for longer.
Mountain biking has become a great recreational activity as well as an endurance sport for committed riders. While the good weather and holidays are here more bikes are appearing from garages and sheds for some serious fun!
Thanks to feedback from mountain bikers Julbo continue to develop sunglasses specific to the needs and expectations of mountain bikers worldwide.
An essential piece of kit for any cyclist is good eye protection.
Here we will help you choose and advise, on the best sunglasses for practicing this great high speed hobby.
CLICK HERE to see the full Newsletter