Julbo AERO – With dawn to dusk photochromic Zebra lenses
Julbo designed AERO for those who seek out the most demanding of activities, be it a vertical mile or 100 mile trail race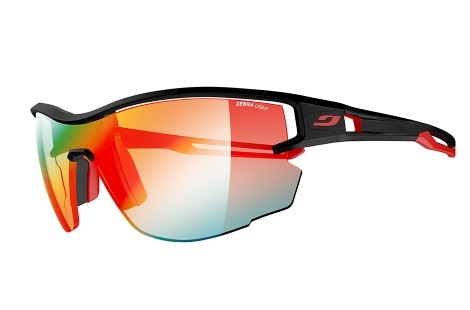 .
Aero is uncompromising when it comes to performance and comfort. The Zebra Light Red and Zebra Light photochromic versions guarantee a wide clear field of vision, regardless of light levels. The suspended lens construction provides outstanding ventilation even in the most intense situations and the Air Link temples provide a secure and comfortable fit while remaining as light as possible.
The Julbo photochromic lens gets darker or lighter in accordance with light intensity - protection category 1 to 3.
Fast activation speed.
Exceptional anti-fog coating: no condensation, maximum longevity.
Hydrophobic coating on the outside: prevents marking and facilitates the removal of water.
Soft material: less risk of injury during falls.
Brown colour to accentuate relief.
Recommended for trail running, mountain biking, etc.