Julbo mountain inspired designs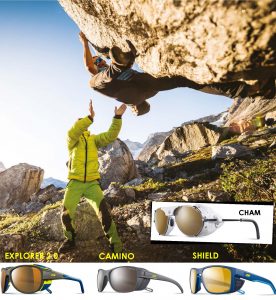 Born in the mountains of the Jura, and a partner of the greatest mountaineers, JULBO takes inspiration from their mountain spirit and the latest sporting trends to offer sunglasses with a unique character blending innovation, technical excellence, tradition and style.
EXPLORER 2.0 consolidates its reputation for peak performance. Faster, stronger, higher: high mountaineering is changing, and the same is true for Julbo's flagship model. More ergonomic, better ventilation, slimmer and more stylish, Explorer 2.0 reaches new summits in performance. With large coverage, removable shields, 360° adjustable temples and high protection lenses, these glacier sunglasses are designed for extreme conditions without any comprise.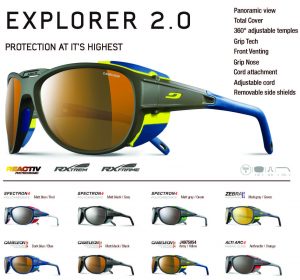 SHIELD combines technical excellence, versatility and style. Julbo has produced a stylish frame for cross/mountain bike hoppers to reflect both their spirit of adventure and technical ability. All-terrain and all-protection, Shield will open both your field of vision and your mind to what's possible: Zebra or Cameleon photochromic REACTIV lenses for perfect vision, and non-slip curved temples with Nose Grip so they stay on your head when things get bumpy! Air Flow ventilation and removable soft-feel side shields guarantee maximum comfort. The sleek rectangular shape ensures style and bold moves go hand-in-hand.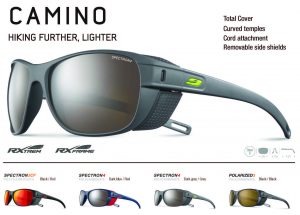 CAMINO is perfect for long-distance trails. Letting your footsteps and eyes lead you, whether it's walking to Compostela, taking the legendary Stevenson Trail or trekking around Mont Blanc... Long-distance trails offer freedom and slow pleasures, with the focus firmly on discovery and observation. Julbo has invented an essential, light and functional piece of kit for trekkers. With ultra-wide coverage, Camino offers faultless protection so you can go all the way.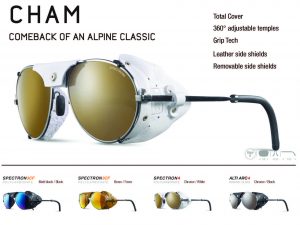 CHAM is the iconic re-release – which transforms into a fashionable aviator style thanks to the detachable leather trim. The legends of the mountains were as tough as old leather! New generations are nostalgic for the authentic frame with leather side shields worn by the greatest mountaineers of Chamonix on all the world's peaks. With this re-release, Julbo offers much more than a pair of sunnies: pure emotion, and the alchemy of shiny metal, soft leather and rivets, backed up by high-performance mirror lenses. Comfort and vision in the mountains, with equally good credentials for town or your travels.